Certified Tires & Auto Repair Shop near Elk River, MN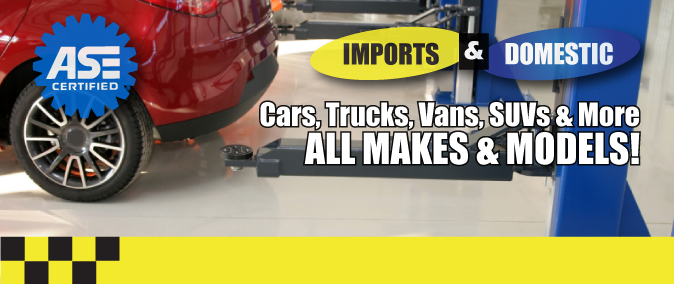 Turn to Elk River Tires & Auto Repair Shop for All of Your Auto Repair Services & Vehicle Maintenance Needs
We Are Your Choice in Elk River Auto Repair!
Sometimes maintaining a car is not as easy as many people take it to be. Not everyone who says they are a mechanic has all the required qualifications auto repair services for your vehicle. It is important to look for a qualified mechanic in auto repair shop who you can trust with for your car. This is because the car you drive should be as safe as possible. It's needless to put your life and that of other people at risk because of something that can be easily avoided. You will need to look for an auto repair shop that offers a qualified and also affordable mechanic. This way a reputable mechanic from a reputable auto repair shop will give you the best auto repair service for your car repair.
If you are residing in Elk River, Otsego, or in the Zimmerman MN area you can benefit from a professional mechanic from auto repair services. We are the local leaders in car engine repair and even just getting your oil changed. You can also have your tires checked by an auto repair mechanic who understands wheel balancing and technicians who are also experienced in wheel alignment.
These auto services are offered at an affordable price by an auto repair shop where even quality tires are sold at an affordable price. People who take pride in owning their cars take their vehicles to our Auto repair service because they are assured of high-quality auto repair services. Now there is no need to worry if you are having car problems. Visit Elk River auto repair shop, the best place to take your car for the best auto repair services like oil change, or for tire repair. You won't regret taking your care there with our dedicated repair service.
We are Here to Help You with All Your Auto Repair Problems!
Elk River Tire & Auto is a full-service preventive maintenance and auto repairs center in the Elk River, MN, specializing in Car Care Services, General Services, Undercar Services, Heating and Cooling Services, Electrical Services, Transmission Services, Electronic Services, Internal Engine Services, Heavy-Duty Services, Towing, and Miscellaneous Services since 1990. Our experts have the knowledge to service and repair even the most challenging auto problems on all makes and models of domestic and import vehicles. We use the latest technology to assess the situation and offer you alternatives primarily providing service to vehicle owners residing in Elk River MN, Otsego MN, and Zimmerman MN. We guarantee all of our work and know you'll be happy with the outcome. Stop in or give us a call to let us know how we can help you!